The North Channel Minnow

Detroit Bait Company

Detroit, MN

1903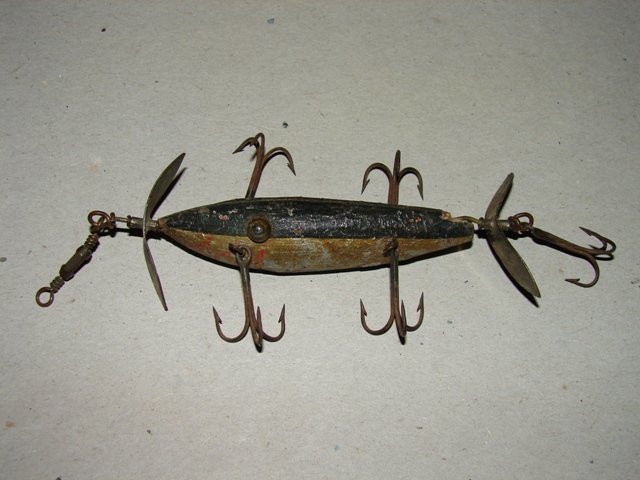 Little is known about this manufacturer that made one of the very first wooden minnows in the United States.  The only lure this company manufactured was this minnow and it was available as a 3-hook or a 5-hook version (shown above).

This is an underwater minnow and it has two lead weights on the bottom of the lure which cause it to sink.  The lure ran straight through the water with no action except for the spinning props.  This way of fishing was effective though, as I have taken these types of underwater minnows out fishing recently with good luck at catching fish.

While it was a simple design, this was one of the first of many minnows made by numerous other companies that used this same concept.  Remember, this is before the common diving lip was invented.

By the 1940s, most companies no longer made underwater minnows with lead weights on the bottom.  The diving lip had replaced this concept, although top water minnows with props continued to be popular and are still used today.  I believe the North Channel Minnow disappeared long before then, and probably was not manufactured past 1910, as bigger lure companies made minnows with more colorful paint schemes and fancier props.  This forced the small lure company out of business.

Other features of this early minnow were brass hardware that ran through the middle of the entire lure.  This means that the rear hook is attached through the lure all the way to the line tie.  The side hook wires also run through the lure and connected to the hook on the opposite side.  This was a common feature of minnows made before 1910.  The 5 hook lure is 3 ½ inches long and has unique "gold specs" in the real glass eyes...something I have not seen on any other lure made.  It also features hand-painted gill marks and many of these lures had the name "North Channel" stenciled on the side.  Some have been found with "Delavan" stenciled on the side also…but no one appears to know the exact reason a different name was used.    

I bought this lure some time ago at an auction sale.  It was obviously well used and truly earned a place in my "Retirement Home For Lures".