Wayzata's (wy-ZET-ə) name is derived from a Lakota Sioux phrase.  Waziya was their god of the North, a giant who blew the cold winds from his mouth.

It wasn't until the 1851 that the lands west of the Mississippi River were opened for land claims to be filed. Tension between the settlers and the Natives in the area rose in the 1850s and climaxed during the Dakota War of 1862. After the War, most Dakotas were forced to flee the area. In 1852, Wayzata was officially established.

In 1855, Wayzata had an influx of settlers who built a sawmill, a hotel and a blacksmith shop. he era commonly referred to as Lake Minnetonka's "Glory Years," reached its peak in 1882.

In 1881 Wayzata broke away from the Minnetonka Township and became a separate governmental entity, mainly as a reaction to the roaring tourist-vacationer lifestyle. A nationwide economic depression and the migration of tourists to newer resort areas out west gradually transformed Wayzata into a residential community. Summer cottages began to appear along the shores around Lake Minnetonka during this time.  By the 1920s, motorboating had become popular, and Wayzata had two nationally renowned boat builders located on the shore of Lake Minnetonka.

As World War II approached and ended, the boat building era had ended and home building began to grow.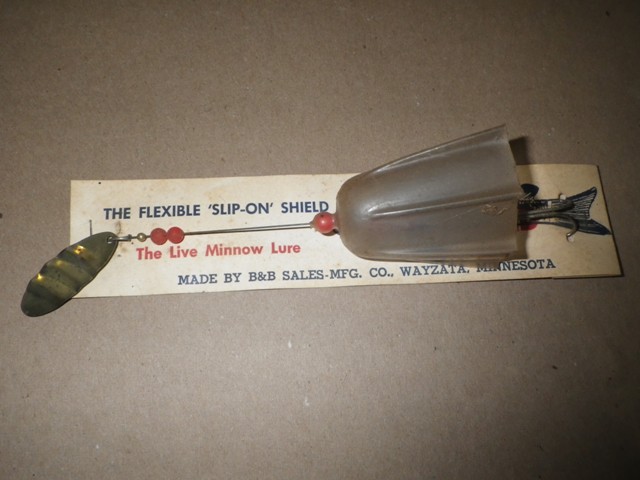 This spinner with an odd "slip-on" tube to protect the bait was made in Wayzata.