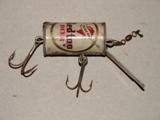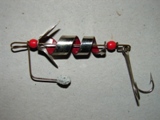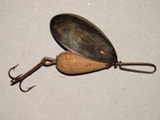 Why retired lures?

I got the idea from a "little old lady" in Wadena, MN back in 1984. I met her as a teenager who was just starting to collect fishing lures as a hobby. She shown me a few lures her late husband had and we shared fishing stories. The lures were old, rusty and scratched and it was obvious they caught a lot of fish and served their master well.

A few weeks later she had a garage sale. A guy came by and offered her $25 for all the lures. I told her that I thought they were worth MUCH more than that and he was trying to rip her off.

"Oh, you are such a nice young man," She said, "My husband would have liked the thought of his lures going into retirement. Here, you can have them. You can move them into your retirement home for lures".

After insisting she take some money, I gave her what I could afford, and proudly took them home. I had no idea what they were called but knew that I liked them. I love to study History and love to fish...what more could I ask for? I even actually thought I was the only person collecting fishing lures.

I researched the lures as best I could. One was a jointed wooden frog with black bead eyes and spotted green legs. One had a metal spinner in the middle of it that, with a little cleaning, I could read a patent date of 1910. One had strange grooves carved in it and the minnows had lead weights drilled into the bottom of the lure.

A few years went by and I found myself in Wadena again, and thought I would stop by and see the "little old lady" to say hello and tell her what my research found out, but sadly...she was gone.

I still have those lures today and will always treasure them. And, I still refer to my collection as "retired lures".

Images and other materials contained on this web site are the property of retiredlures.com

and may not be reproduced or used on other web sites or for personal use without our written permission.